I love Anne's blog and style and I was so excited when she agreed to guest post! Check out her blog, In Residence, for style inspiration, new mom tips, pictures of her adorable baby Hendrik, and thoughts on life as the spouse of a physician.
Hi! I'm Anne from
In Residence
, where I blog about the things I love wearing, reading, and making, and about life with a baby boy and husband in residency. While Erika is spending time with her own sweet boy (and getting to start her own residency!), I'm happy to be filling in for the day. Since I finished my own journey through
pregnancy
&
maternity style
not too long ago, I loved following along with Erika's and seeing her twist on making her style work with a baby bump. And now that the little one has arrived, I thought I'd share some of my favorite things for being stylish post-pregnancy.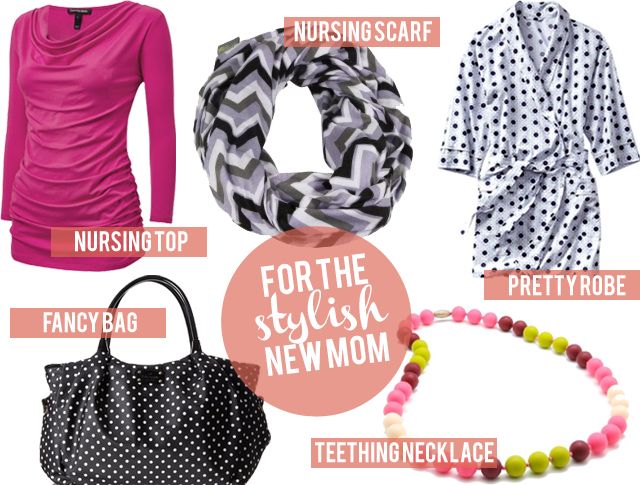 nursing top
: I was so excited to get back to "regular" style after maternity style, but I quickly realized that nursing style has its own restrictions. So I think a few cute but access-friendly tops are a good wardrobe addition. This Isabella Oliver nursing top is also great with the ruching while everything in the midsection works on getting back to normal shape...
nursing scarf
: a nursing cover that doubles as a go-with-everything scarf is perfect for a stylish lady out and about with her little one. Bonus: cover up any spit up that might get on your shirt!
pretty robe
: being up in the middle of the night - and/or not managing to actually get dressed until 10am - requires a robe for warmth and (ahem) frontal access, so why not have a nice one that makes you feel snazzy?
fancy bag
: I love the Lo & Sons travel/gym
bag
that I'm using as a diaper bag, but I considered lots of great diaper bags like this Kate Spade one. I don't usually spend a lot on bags, but for something that's going to be replacing all other purses for years to come... I say it's worth it to have something stylish and fabulous.
teething necklace
: as a lover of wearing statement necklaces who has now had to put them away for a while to save them from my little Mr. Grabby-hands, I can tell you Chewbeads necklaces are great. And they're even cute enough to start wearing before baby gets old enough to put everything in his mouth. And in case you're interested, here are some other baby-related favorites I've posted about in the past: