1. Today is my last day in St. Louis. I've gotten to do so many amazing things (delivering lots of babies obv. trumps everything), learn and see tons (vacuum and forceps deliveries, very high risk pregnancies, lots of ultrasounds, etc.), and meet so many great people...but yesterday was a heavy day. I went with the resident to do an ultrasound on a high risk patient. I put the ultrasound probe on her belly but try as I might I couldn't find a heartbeat. The resident tried then to no avail. When we gave her the news, the patient was sobbing that heartbreaking way that I think only happens when a parent loses a child (the last time that I saw it was in Haiti, when a dad lost his little daughter to diptheria). We had to induce her to deliver her no-longer-living baby. The second patient was less tragic; an older mother pregnant with a baby with Down's syndrome. She was admitted to the hospital for decreased baby movement, and the first complex ultrasound we did was not very reassuring. Later in the day, we came back to repeat the ultrasound and the baby was moving everywhere. The look on the mom's face as she watched her baby move on the ultrasound screen was beautiful. She told me then how she had prayed so hard all through her pregnancy for this baby, and that she was going to name him Jaden: Hebrew for "God hears."
I love OB.
2. Stephen and I exchanged anniversary gifts last weekend since we will be apart for our one year anniversary this Saturday. He gave me this beautiful watch:
3. And I gave him (us) this awesome tent. Some of our best times together have been camping, and I can't wait to use it. This tent is also 9 pounds versus the one we've been borrowing that weighs twice that (and was NOT conducive to backpacking, which we found out the hard way).
4. One thing I will miss about St. Louis is St. Louis Bread Co., which is actually the original Panera Bread. I think knowing that St. Louis founded Panera Bread was almost enough to convince Stephen to move here for residency; he loves Panera. It also tasted especially good after our four mile run last Saturday:
5. And another thing that I will miss about St. Louis is the beautiful little lake I found to run around. It's just about 4 miles around which is a perfect distance for me now. I have to admit though that I did not run this week in the 100 degree St. Louis weather, which I will not miss when I get back to Michigan.
Sunset after running around the lake:
6. I went to the outlet mall one night this week and even though I love them, I am kind of embarrassed about my two purchases. The first was this sweater from J. Crew Factory: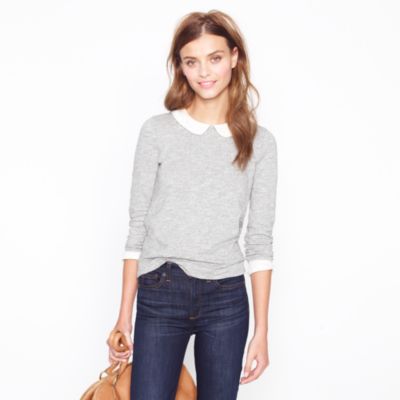 I swore that I would never wear a shirt with a goofy collar when I saw this shirt at the retail store last year. But it grew on me, and then I tried it on at the outlet, and now here I am with my peter pan collar tee.
The second purchase was these shoes:
My sister actually purchased a pair of Sperry's a few years ago and I kept telling her they were Grandpa shoes. A few months later, Sperry's got really popular (which my sister made sure I knew after making fun of her Grandpa shoes). Now I conformed bought some. But they are really comfy...versatile...and sort of cute?
I kind of feel like a traitor for both of my purchases. But no regrets.
7. I've been wanting to do the Color Me Rad 5K forEVAH. Apparently they spray these random colors at you while you are running and it just looks ridiculously fun. I found one in Madison this weekend, so I'll be stopping on my way back from St. Louis to run it with a friend. I can't wait.
Happy weekend! Linkin' it up with Jen.